There's no denying that divorce is horrendously expensive. Attorney's fees, court filings, counseling, and many more could empty your pockets. According to a 2 20 survey by legal publishing site Nolo, an average divorce cost in the U.S. is around $12,900 and it could still go higher.
When you've broken the bank from these spendings, it could get a little baffling on where to start again. You are going to live with less income but that does not mean you won't survive it. Your next goals are to be wise with finances and educating yourself with budgeting.
Here are the things you can do to rescue your financial state after a costly divorce:
Reassess your salary
It's time to go back to the drawing board. Right before you take on a post-divorce trip, you have to consider all your daily expenses. From now on, a portion of the family income would be shaved off.
Since you're legally single now, you'd start paying tax as a single person. That's gonna cost a significant amount of money. You may have to cut short on unnecessary expenses. Retain the essential ones until a financial recovery has been established.
Educating your children about financial responsibility
A family is a team so everyone should take part in this transition period. Your children may have nothing to do with the current circumstance, but they have to know what's going on. Explain to them about your reduced income and how it's going to affect them. Set their expectations and teach them about wise spending.
You have to also set an example to them by reducing your expenses for yourself. Tell them that you just have to do all these until you get back on your feet. Financial literacy starts at home and this is a good time to involve your children in the matter.
Get a side hustle you can do in your free time
Generate additional earnings by doing work aside from your day job. A survey revealed that 27 percent of respondents rely on their side hustle to meet their daily needs. This says so much about how profitable side hustles are. When you manage your time properly, there are jobs you can do while staying at home with the kids. Acquiring freelance work online can help you earn extra income.
You could also do DoorDash if you're comfortable leaving your children with trustworthy relatives or friends. If you have saved a little, start a small business from a limited capital. Bake cupcakes and sell them to your friends. The possibilities are endless. Be creative and earn more while going through this stage.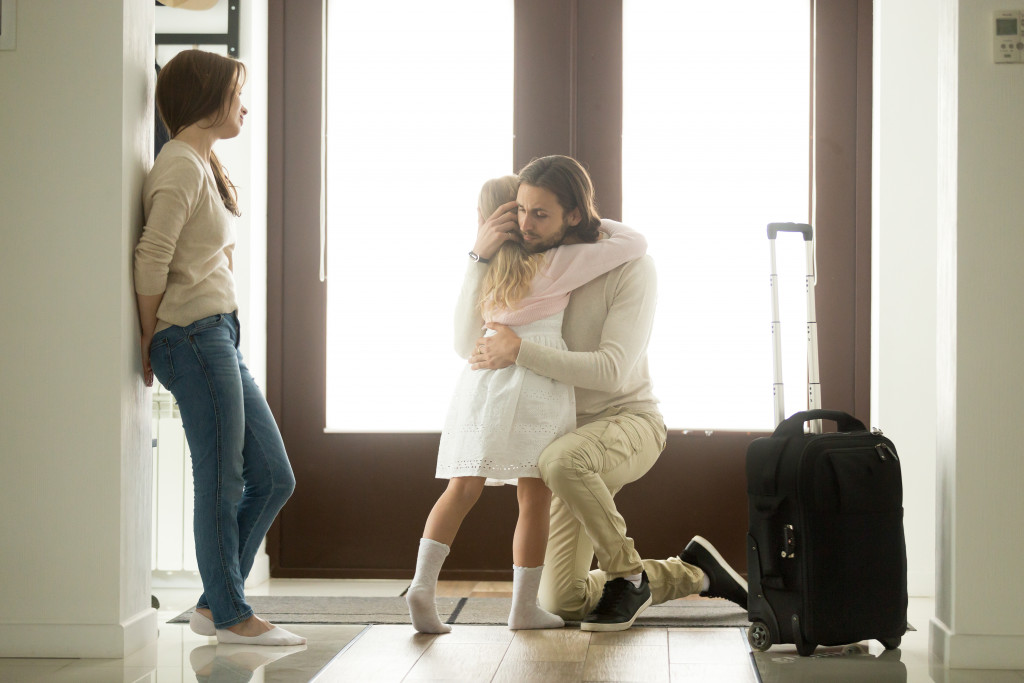 Be smart if you're moving out
You need to make a crucial decision when that time comes you have to leave the place where it all began. Some even realize that they won't be able to keep the house anymore. Finding a new place to settle in could be a challenge to your finances so you have to consider the most important factors. These are the things such as your proximity to your workplace and your children to their school.
These factors are useful especially when you want to reduce expenses for gas or commute. Get a more economical place to rent or shop for competitive home loans so you could start over. You could also think about your parents' offer to live with them in the meantime. Exhaust all plausible options that'll optimize your savings for this new chapter.
Examine your bank accounts and credit cards
Make sure your ex-spouse's information is not in your credit report. You may have to review all your banking arrangements and credit card accounts. Have a detailed discussion with your banker. Building up your credit score after closing all joint accounts and credit cards is vital. If you've maintained good credit, you could easily take advantage of loans in the future. You can then use these loans to pay off existing expenses incurred by the expensive divorce.
Keep track of your savings
Every money you're spending should be accounted for. The same goes for the money you're putting into your savings account. Standardized budgeting would help you predict the growth of your savings. Cut off a specific chunk from your kids' child support and allot it to their college funds. Get an exact percentage of your monthly income as the quota for your savings. Be consistent with the amount you're going to spare. Set up an automatic funds transfer with your bank across your accounts to save time.
Securing your future is a tough plan to pull off amidst the aftermath of a divorce. Take your time to contemplate. Be wise in making future financial decisions and motivate yourself to save more. Surviving this phase is going to be a great accomplishment for you and your children.